Hurricane Safety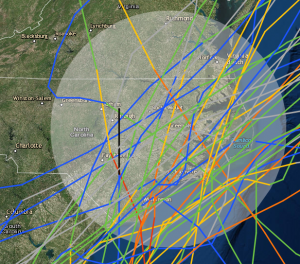 All tropical cyclone tracks that pass within 150 miles of Greenville, NC from 1986 through 2016.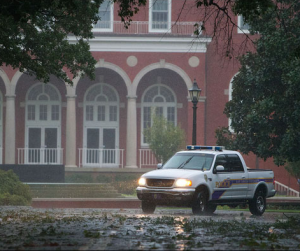 ECU Police patrol campus during Hurricane Irene in 2011.
Hurricanes are among nature's most powerful and destructive phenomena. On average, 12 tropical storms, 6 of which become hurricanes form over the Atlantic Ocean, Caribbean Sea, or Gulf of Mexico during the hurricane season which runs from June 1 to November 30 each year. Over a typical 2-year period, the U.S. coastline is struck by an average of 3 hurricanes, 1 of which is classified as a major hurricane (winds of 111 mph or greater).
For North Carolina, the majority of tropical storms make landfall between August and October. In the last 30 years, Greenville has been impacted by 43 tropical systems (28 of which were tropical storms or hurricanes).  Please see the image to the right.
Hazards associated with land-falling hurricanes include: winds exceeding 155 mph, tornadoes and waterspouts, ocean storm surge, heavy rain, inland flooding, and landslides. Here in the Greenville area, we typically experience high winds, tornadoes, heavy rainfall, flash flooding and areal flooding.
These hazards often have repercussions:
Utility Outage
Water Issues
Debris/Downed Trees
Traffic Issues
Flooding
Structural Damage
ECU is designated by the National Weather Service as a StormReady University. Despite our access to the best technology available, forecasts are based on computer models that inherently contain potential for error and weather systems can change. ECU faculty, staff, and students need to become familiar with the Greenville climate and check weather forecasts frequently throughout hurricane season. The forecast and conditions can change often.
Tropical storm forecasting can be fickle; the timeline, intensity, and track of the storm determine the impact but models are no match for Mother Nature. Even slight changes in hurricane track can make a big difference regarding the impact to the Greenville area. ECU continuously monitors the weather and alerts the campus community to severe weather that may impact their safety.
---
ECU Hurricane Preparation, Response, and Recovery
The evacuation of the ECU campus is actually quite rare, but not implausible. ECU has strong, sturdy buildings and we believe it is safer for students to stay on campus than venture home, to areas of which may be closer to the coast and houses which may be less sturdy or subject to flooding. Some students are not able to evacuate, due to being an out-of-state or international student. The University provides shelter, provisions, and security for students on campus.
Pitt County is a host county for those central coastal plain counties required or encouraged to evacuate. There will be residents from eastern counties that travel to and through the Greenville area, congesting the main thoroughfares. This is another reason we do not want our students evacuating campus, potentially putting them at greater danger to be on the overcrowded roads during hazardous weather conditions.
The University has a three tiered hurricane plan, which includes preparing, responding, and recovering from impacts of a tropical storm. Those phases are briefly described below. At the start of hurricane season, all divisions and departments are encouraged to take part in a series of preparations. Pre-season preparing involves reviewing plans, policies, and procedures as well as stocking up on supplies for a tropical storm event.
---
Phase 1: Early Preparations
As early as 3 to 5 days out, ECU Administration begins to convene to discuss the forecasts, any potential impacts to campus, and the possibility of class cancellation or campus closure. Plans, policies, and procedures are again reviewed and updated as necessary. ECU Facilities Services works to ensure supplies are stocked and equipment is readily available for phase two. Campus Living prepares for utility outage and will ensure food and water supplies are stocked. Campus Living will also inform residents of hurricane procedures. Environmental Health &Campus Safety coordinates with the National Weather Service and local City / County representatives. Outlying centers and institutions are contacted to begin early preparations.
The ECU community will be continuously updated about the impending storm, any changes to operations, and safety precautions to take.
---
Phase 2: Imminent Preparations
When the tropical system is 12 to 24 hours from impacting ECU, additional and more stringent preparations are made. ECU Administration continues to convene to discuss the forecasts, imminent impacts to campus, and the possibility of change in operating status or evacuation. ECU Facilities Services and Environmental Health &Campus Safety secure buildings and construction areas, sandbags and barricades vulnerable areas on campus, and tests emergency resources / equipment. Campus Living will continue to communicate with on- and off-campus residents regarding hurricane safety guidelines. Coordination is maintained with the National Weather Service and local representatives. If a change in operating status is deemed necessary, mandatory and essential personnel are put on standby for response.
As winds reach 30 mph, an orderly secession of activities will begin. Before winds reach 40 mph, all outdoor emergency preparation activities shall begin shutdown. Only emergency response and ECU Police patrols will be allowed to operate at this point. At 65 mph, all outdoor activities shall be shut down; at which point ECU Police, and other student support, will be stationed at residence halls to assist as needed. These same parameters will be utilized to determine the resumption of response activities.
The ECU community will be periodically contacted with updates about the impending storm, any changes to operations, and safety precautions to take.
---
Phase 3: Recovery Operations
As the storm passes and winds dissipate below 40 mph, emergency response and recovery activities begin. Damage reports are taken, assessed, and priorities are assigned for clean-up and repairs. Utility services, information technology, and safe drinking water are ensured, and perimeters are set-up around unsafe areas to ensure security. Each division and department works together to ensure faculty, staff, and students are safe and that normal operations can continue as soon as possible. Residence halls and dining halls are a top priority since their operations are required to support our residents.
The ECU community will be updated about any changes to operations and safety precautions to take.
---
How The University Notifies Faculty, Staff, And Students
Once the University has decided to close, cancel or delay classes, the notification is sent through ECU Alert.  This information can be found on the University home page, email, and SMS text messages (users will only receive text if subscribed).
---
Hurricane Preparedness & Safety
Faculty, staff, and students should know the hazards associated with tropical storms, in order to make a plan of action. Below are some tips to prepare for hurricane season.
Build an emergency kit and make a communications plan

Visit www.ready.gov for additional information on what to include in your emergency kit and how to plan for communications during an emergency

Know your surroundings

Learn the flood-prone areas and learn community hurricane procedures/evacuation routes
Flood-prone parking lots have signs at their entrances (lower Minges and lower College Hill)

During the storm:

Monitor your local news stations, online weather resources, and the ECU Alert resources
Secure your property
Follow instructions local emergency management and officials